PSE's HR development priorities
GRI 103-1
One of basic objectives is the sustainable and consistent support to the development of employee's competences leading to the achievement of results in line with strategic plans.
The Personnel Policy defines the areas on which the effective implementation of PSE's strategy depends. The Personnel Policy is founded on PSE values and corporate culture, which expand into three Personnel Policy
Pillars
.
Personnel Policy Pillars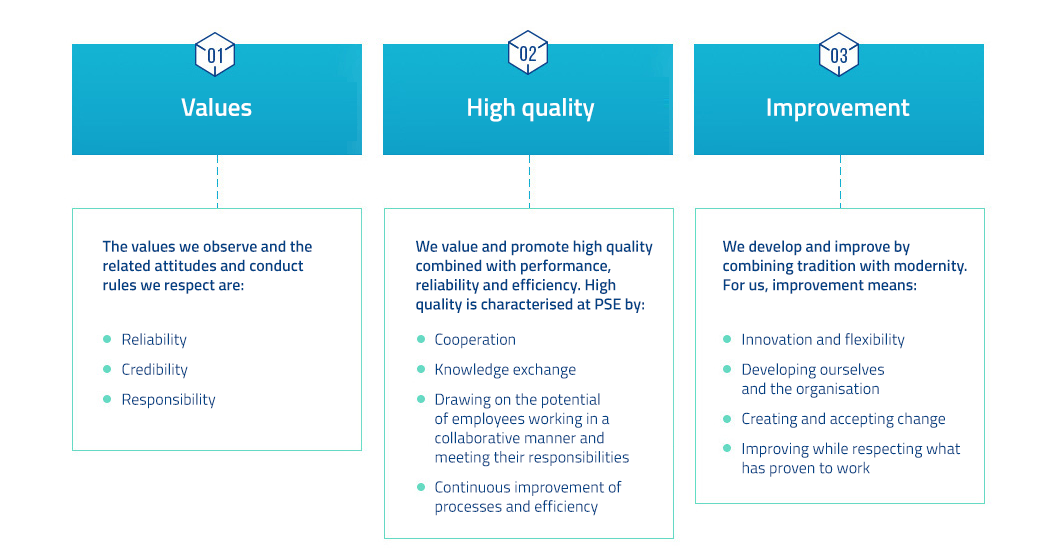 PSE's success is determined primarily by knowledge, skills and competence of our employees. Therefore, we attach great importance to how we treat each other, how we define our values and objectives, and what attitudes are desirable among employees.
The Policy is addressed to all PSE employees. The provisions of the Policy are widely communicated across the Company. They are also an element of the induction programme for new employees.
As part of the implementation of the Personnel Policy and promotion of appropriate attitudes, in the spring of 2019 meetings were held with employees in Konstancin-Jeziorna and in all ZKO locations, during which the Personnel Policy assumptions were presented. In addition, employees had an opportunity to listen to two lectures on values: "How to cope in a world of uncertainty and change" and "Effective and satisfied, or looking at the engineer's way".